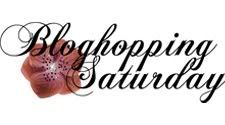 Last week I created Bloghopping Saturday for my own blog because on Saturday nights I love to "hop" around leaving comments on others blogs. Many of you enjoyed it yourself and asked if a button could be made. Well, thanks to Aubrie over at
The Buzz 4 Moms
- a button is now made! You will find it on the far right of my sidebar.
You do not have to grab this to participate but are welcome to use it if you would like
.
You can link as many posts as you would like and they can be anything - reviews, giveaways, thoughts, anything. Link up and every Saturday night, I'll be "bloghopping" and sharing the love. Also if you can, take the time to follow these links to others bloggers who would also love the comments! Let's share the love and help each other out!